Who Needs to Win More, Michigan or Michigan State?
This Saturday will make the 111th time (Michigan leads all time 69-36-5) the University of Michigan Wolverines (6-1) and the Michigan State University Spartans (4-2) has squared off on the gridiron.
Heading into this game things feel a little bit different, gone are the cries of 'little brother' and more recently 'trouble with the snap'. Neither fan base seems to be full that bravado that's frustrated each other for decades; rather it seems both fan bases are uneasy as they get ready to challenge for the Paul Bunyan trophy.
Taking a look at it from both perspectives it's understandable why they would be a bit insecure.
A roller-coaster Michigan State team comes into this game after its biggest win of the year, an impromptu and unexpected road win over Penn St., 21-17. It wasn't a pretty game as the Spartans wore their warts on their sleeves, but ballsy coaching by Mark Dantonio gave the Spartans the edge. Michigan State would utilize a whole bag of unconventional coaching to convert a fake punt early, try a fake field goal and opt to throw to the end zone instead of a playing it safe to steal a monster win.
Michigan on the flip started in quicksand against Notre Dame, however they have gone on to win every game since. The wins were ugly and they struggled at times, until last week when the Wolverines looked as complete as they ever had under Jim Harbaugh when they beat Wisconsin, 38 -13.
Two impressive victories, albeit for different reasons, for two teams that have underwhelmed through the halfway points of the season; the prior five or six games have given cause for pause when it comes to the trash talk between the fan bases and has everyone curious as to who can use this win the most.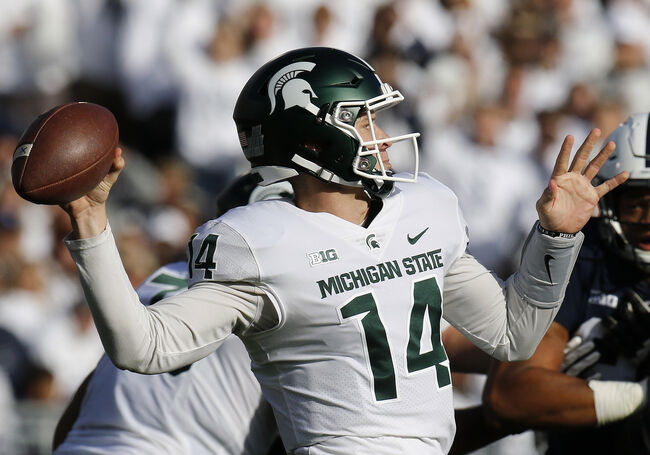 MICHIGAN STATE
With a win on Saturday the Spartan can do two very enthralling things, first they would essentially knock the University of Michigan out of contention for the Big Ten East Division title and end any hopes they have of going to Indianapolis to contented for their first Big Ten Championship since 2004 and prevent them from attending their first ever Big Ten Championship game at Lucas Oil Stadium.
Secondly and most importantly, MSU is right back in contention to win the Big Ten East. They will put themselves in a spot to challenge Ohio State for the right to play the winner of the Big Ten West on December 1, 2018 for the opportunity to get the bid to represent the Big Ten in the College Football Playoff or go play in the Rose Bowl. This is something that seemed far-fetched two weeks ago after the Spartans were man handled at home by a depleted Northwestern team, 29-19.
Any way you slice it, a win would be big time for a Michigan State team that had lofty expectations heading into the season with 19 returning starters.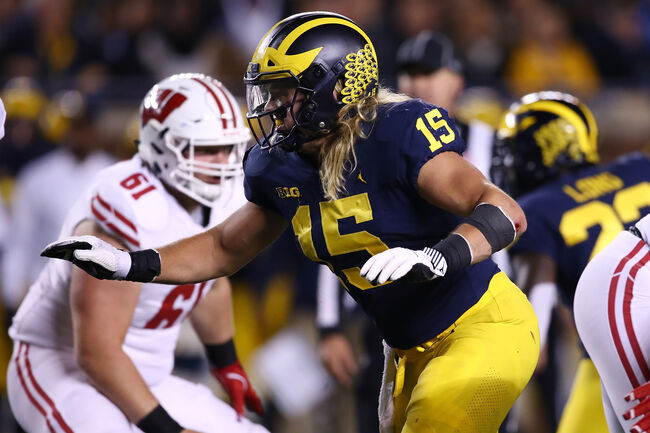 MICHIGAN
If the Wolverines can get a win in East Lansing on Saturday it will move a once storied program, that had fallen on the rockiest of times, along what is shaping up to be a magical run. Heading into the fourth year under Harbaugh most pundits had Michigan winning 8 or 9 games, finishing at best third in the Big Ten East.
If Michigan can get by the Spartans the schedule seems to open up as Penn St. no longer looks like the preseason juggernaut they were advertised as, Rutgers is an embarrassment and Indiana looks like a high caliber MAC team. This will set up a showdown in The Horseshoe against Ohio State.
Again if Michigan can get by the Spartans, Ohio State has a few flaws that could allow the Wolverine to get into the Big Ten Championship game and possibly the College Football Playoff.
Not only does a win help open the door to what Michigan fans feel destine for, but it also helps reaffirm that the program is on schedule with Harbaugh at the helm.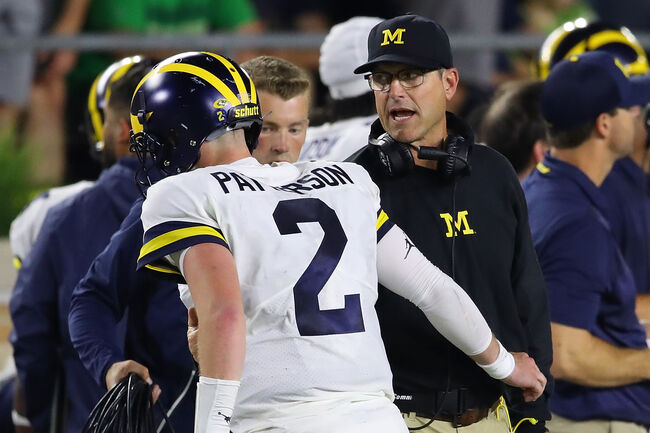 HARBAUGH
In my opinion the entity that needs the win the most is Harbaugh. Like most high profile college coaches he is synonymous with his program and his record as the lead dog at Michigan has come under quite a bit of scrutiny, and deservedly so.
In the past 3+ seasons as the head coach at his Alma Mater, Harbaugh is 34-12, never winning more than 10 games in a season – even Brady Hoke won 11 in 2011-12 when he won the Sugar Bowl.
During this time period Harbaugh has struggled against his rivals, something his critics are quick to point out. Against the big three, Notre Dame, Ohio State and Michigan State, Harbaugh has gone 1-6, the lone victory coming against the Spartans in 2016 – this was Michigan State's 3-9 season.
A victory here would help to hush a lot of rumblings from the fan base, not only would he beat the back yard rival, he'd also do it on the road – a place where Harbaugh led Michigan teams have struggled. To be exact they are 12-8 on the road at a visiting or neutral sites.
The win would also keep Michigan relevant in the Big Ten East, a division where Harbaugh has finished third (2015), third (2016) and fourth (2017) since taking over after leaving the San Francisco 49ers in late 2014.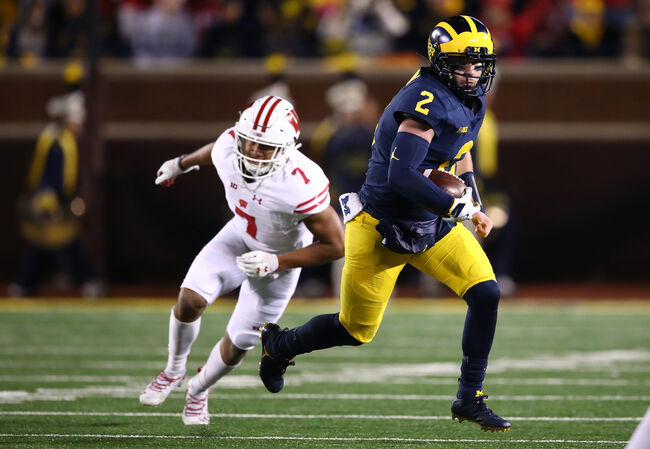 When a coach takes over a program he usually asks for four years, this is so he can get 'his guys' in the program and have his thumb prints all over everything. This is Harbaugh's fourth season and it's safe to say that this defense, when engaged, looks better than last years. This offense is running and running well with Karan Higdon going full speed ahead and the Quarterback position is the deepest it's been under Harbaugh – Shea Patterson is very good, Dylan McCaffrey looks like he could be elite and Joe Milton looks solid.
The impact players are all guys Harbaugh publicly recruited and spent time bring in to put that everlasting imprint on this team. It feels like it's safe to say Harbaugh is reaping the fruits of that labor.
A win on Saturday would mean more than just being on time and on schedule for Harbaugh, it means the ultimate prize, a National Championship, rests in his hands and his team controls their own destiny.

Adam S.
Want to know more about Adam S.? Get their official bio, social pages & articles!